Success Stories
One of the things that sets us apart is our ability to help any CPA Exam candidate.
Whether you're looking for a primary course, a supplement, or just an additional MCQ testbank to use because you've memorized the one you've purchased, we have the solution.
These success stories are a tiny fraction of those we've received.

Just found out I passed FAR, which was my last exam! I am DONE! Thank you NINJA and thank you Jeff for the hard work that you and your team do. I wouldn't have passed all 4 without you guys.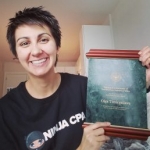 NINJA MCQ – A must! With the NINJA Notes, I printed out the notes and used as a knowledge check closer to the exam. NINJA Audio is nice to use during the commute or if you are an auditory learner. (Passed the CPA Exam on the first try with an average score of 95.5*)
Olga Timirgalieva (Roger + NINJA)
Previous
Next