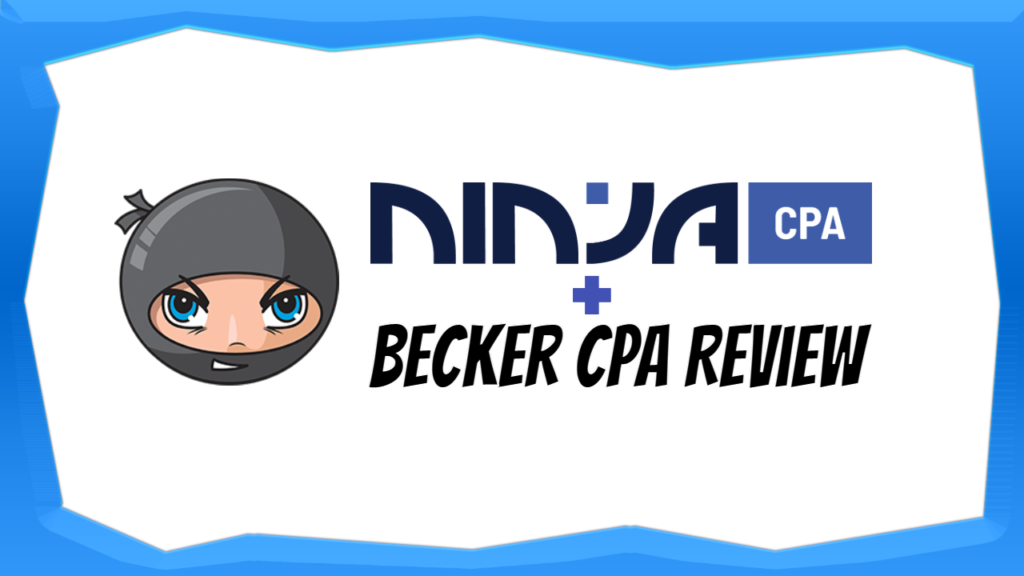 Becker CPA Review + NINJA: Pass & Finally Become a CPA (5 Steps)
---
Becker CPA Review is the most-popular CPA Review Course. NINJA CPA Review is the most-popular CPA Exam Supplement.
A ninja-quick look at how to combine NINJA with Becker and (Finally) Become a CPA.
Becker Pro Course? Premium? Advantage? The Becker + NINJA 5-Step Plan is the same for all Becker courses.
---
Step 1.

N

ail the Concepts
Nail the Concepts with your Becker CPA lectures & NINJA Audio.
Time: 2.5 Weeks
---
Step 2.

I

ntense Notes
Take Intense Notes over your Becker lectures (or NINJA Book).
---
Step 3.

N

on-Stop MCQ
Non-Stop MCQ (Becker CPA Test Bank and NINJA MCQ) & Take Notes. Time: 2.5 Weeks
---
Step 4.

J

ust Rewrite
Rewrite Your NINJA Notes. Time: 1 Week
---
Step 5.

A

ll Comes Together
All Comes Together in a Final Review. Watch NINJA CRAM. Time: 1 Week
Total Study Time: 4 or 7 weeks (we have NINJA Study Planners for both timelines).
---
Exam Day
Take your exam with confidence and PASS.
Sleep. Celebrate. Repeat (the studying, not the celebrating).
---
NINJA Success Stories

"I wouldn't have passed all 4 without you guys."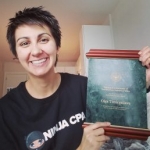 Olga Timirgalieva (Roger + NINJA)
Elijah Watt Sells Award Winner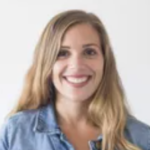 "Ninja CPA Review (Best Price) works nicely as an inexpensive supplement to an online course."
Investopedia
The 5 Best CPA Prep Courses of 2022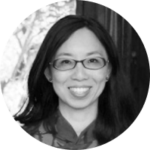 "For just $67 a month, you really can't go wrong with NINJA."
Stephanie Ng (Becker + NINJA)
I Pass the CPA Exam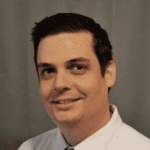 "I would say the NINJA MCQ were essential to my success."
Matt Durette (Becker + NINJA)
Elijah Watt Sells Award Winner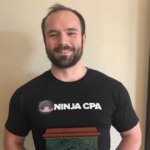 "Gave me the extra practice I needed to get my best score of any of the exams."
Brian Wright (Becker + NINJA)
Elijah Watt Sells Award Winner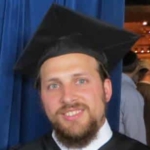 "I used the NINJA Notes to summarize my notes and eliminate topics that aren't tested heavily. I owe it to the NINJA Community."
Shulem Rosenbaum (Wiley + NINJA)
Elijah Watt Sells Award Winner
Previous
Next
"Appreciate it, Jeff! I used the Ninja MCQ for AUD and BEC to supplement Becker and they were extremely helpful so appreciate it!"
– Dan Bierley, Elijah Watt Sells Award Winner
"I personally used NINJA when I studied for the CPA Exam (in addition to Becker). Back then, NINJA was only a supplement, whereas now, it's a full course. However, the NINJA Notes are still as concise and helpful now as they were when I sat for the CPA Exam. In my opinion, there's no better way to quickly solidly all the topics covered in the AICPA's CSOs than NINJA notes. And if you're unhappy with your NINJA products, you'll receive a no-questions-asked refund." – Stephanie Ng, CPA – iPass The CPA Exam
"Thank you so much for the NINJA notes, audio, and mcq. I used them as a supplement to Becker and I'm convinced that's why I passed. I've listened to your audios more than you can imagine. I've read the notes until my eyes hurt (sorry I'm still a fan of my own notes) and did so many mcq that I'm an expert at exams." – Sukpreet K.
"I first wanted to say THANK YOU to yourself and the entire ninja team for the awesome content and support group. I have passed audit and all 4 exams now. I originally passed FAR and REG before my subscription with Becker (got it for free through an accounting firm) expired and then I stumbled upon NINJA.  I can't say that I followed every protocol or answered every question. I am not a great studier. But I can say I wouldn't have done it without NINJA. Balancing the CPA with a job, CFA studies, LIFE, etc… This was a game-changer.  I only wish I had found it earlier, but I am relieved nonetheless." – Martin S.
"I recently took FAR. One of the biggest takeaways for me was my struggle with the simulations. I started using the Ninja materials to supplement my Becker package as a final review and I really do believe Ninja helped me review all the material well and I also feel pretty confident by my performance on the mcq on the exam, though only the results coming out later this month will tell." – Monika K.
"Jeff– This isn't a question, just wanted to say a big THANK YOU for the NINJA material you work so hard to put together. I passed all my exams on my first attempt and I can honestly say I would not have been possible if it had not been for NINJA. I used Becker as my primary study material and supplemented with NINJA multiple choice. Once I began my review process with NINJA it brought everything together. If I had it to do over again, I would recommend NINJA as the primary study material. It was an absolute game-changer for me. All the hours, tears, and frustration have paid off. Thank you again!" – Erin A.
"My Becker subscription expired just before I began studying for FAR, and I came across NINJA while exploring other, more affordable alternatives to renewing Becker. Having used Becker exclusively for the first three sections, I managed 84 in REG, 85 in AUD, and 89 in BEC. Using NINJA exclusively for FAR, I achieved my highest score of the four – a 91. The service you provide through NINJA is a tremendous value – perhaps the best on the market." – Ethan G.
"NINJA was an awesome supplement to Becker for me and I believe NINJA is what truly helped me pass!" – Karissa R.
"Just got my score back yesterday and got a 91 after using Becker and NINJA…Thank you! The quick notes and audio tools were very helpful as well as the NINJA MCQ which is a great supplement to Becker." – Joseph S.
"I used Becker and Ninja. Your MCQ is really helpful, and I passed the previous two exams in the same way and I passed in my first try." – Sameh H.
"I passed BEC first try (92) and AUD retake (1st: 73, 2nd: 84) using NINJA to supplement Becker! Thanks so much for this great resource. Wishing you all the best!" – Madeline C.
"I failed Aud in October with a 74 using Becker. I subscribed to ninja and passed 3 weeks later with a 77!" – Sidney Z.
"Just want to give a major thanks to you. I started out in 2017 with Becker, and I didn't take the exam seriously. Beginning of this year I got Ninja and it has been a wild ride. I've now passed all four parts using Ninja. I'll definitely be spreading the CPA word to get more people to the dojo. Take it easy my great sir. Thank you again!" – TJ R.
"Thank you to you and your NINJA team. With your help and Becker, I am officially done with the CPA. Couldn't have done it without your help. I can't express how thankful I am." – Jacob M.
"I supplemented your NINJA course with Becker and it helped me out a ton by being able to pass my last exam at the end of October. I truly appreciate your dedication to the field and excellent course you have created — I will be sure to recommend this to any other CPA candidates down the road." – Krishna P.
"Ninja was a great help! I used it as an extra tool to supplement Becker's materials. I especially thought the notes helped after doing the long Becker lectures. They were great to simplify what I was learning and in combination with doing as many multiple choice as possible was a huge help. I also enjoyed reading other people's experiences since I did fail FAR a few times. Seeing that other people had some failures but made it through was encouraging." – Michelle D.
"My employer actually gave me Becker but I used NINJA in my last month as my review. From the notes to the sparring, to the MCQs, NINJA is superb!" – Lauren S.
"I passed my REG retake with a 78!  I got a 71 the first time around using just Becker, your NINJA MCQs helped me get over that hump! Thanks!" – Shannon S.
NINJA Study Weapons
Included with NINJA Monthly
NINJA CPA Review
Is A Complete Course That Has Also Been The #1 CPA Review Supplement For Over A Decade.