 Whether you're looking to use NINJA CPA Review as a supplement to your other course (pssst, NINJA is really a complete course), or as many do, your only course, we walk you through each step of the way.

We remove the overwhelm. Tens of thousands of our customers' passing scores prove it.

Save Time
Learn tips to speed up the study process.

Study Framework
Step by step guide to walk you through how and what to study.

Detailed Schedule
The Weekly Progress Tracker to show you what to study each week leading up to the exam.

Complete Course
You get everything you need to pass the CPA Exam. Thousands of passing scores prove it.
Testimonials

Just found out I passed FAR, which was my last exam! I am DONE! Thank you NINJA and thank you Jeff for the hard work that you and your team do. I wouldn't have passed all 4 without you guys.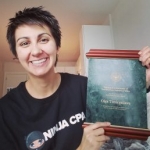 NINJA MCQ – A must! With the NINJA Notes, I printed out the notes and used as a knowledge check closer to the exam. NINJA Audio is nice to use during the commute or if you are an auditory learner. (Passed the CPA Exam on the first try with an average score of 95.5*)
Olga Timirgalieva (Roger + NINJA)
Previous
Next

Click below for your free copy of the NINJA Method.