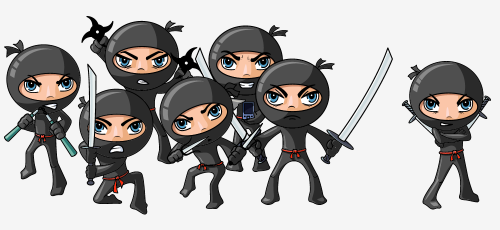 Frequently Asked Questions:
1. How do I buy NINJA MCQ?
Ninja MCQ is now part of NINJA Monthly, which gives you access to all NINJA Study Materials. You can learn more about that here:
https://www.another71.com/ninja-cpa-review//
2. NINJA MCQ won't launch – I'm stuck in this loop…help?
If NINJA MCQ won't launch properly, make sure you're:
– Not behind a firewall/anti-virus software (if so, add exam.ninjacpareview.com as an allowable site)
– Not using Internet Explorer (Chrome, Firefox, and Safari (Apple) are recommended).
– You may need to whitelist the site in your anti-virus software as well.
– You may also need to clear your browser cache (this varies by browser)
3. I can't login and I know I have access. AHHHH!!!!
Make sure that you're not trying to login to ninjacpareview.com with your Another71 Forum credentials – this is causing some people some problems with logging in.
They are two different logins, unfortunately.
If you can't get in – please logout of the forum and try logging into NINJA – that usually solves the problem).
4. How do I work MCQs over a specific topic?
To drill down into topic-specific MCQs, Select "Custom + Sims" —> Select Categories
5. How do I see the Simulation answers?
After you complete a simulation, click your score and it will take you back in and show you the answers.
6. How do I reset my stats?
Simply click Launch Course and you'll see a big orange reset button at the bottom under "Helpful Links".
7. It's running slow – what should I do??
For fastest load speeds, We recommend the Firefox Browser + Java Update + Clearing your Cache
8.. If none of the above answered your question…
NINJA Help Desk: